Your engine needs fresh oil every so often to run at its best. Whether you drive a Land Rover or another popular vehicle, you'll probably find yourself looking for an oil change near you.
At Land Rover Columbia, we provide quality oil service for drivers across Columbia, Lexington, and Irmo. There are plenty of great reasons to schedule service with us, and we're excited to show you them in more depth!
Leave It to the Professionals
Visit our service center for your next oil change, and you'll find a team of exceptional technicians ready to assist you. Fully certified and highly trained, they have experience performing oil changes on every make and model imaginable, so you can trust that your ride is in good hands.
We have plenty of conventional and synthetic oils in stock and can find the perfect engine oil for your car. Plus, we'll change your oil filter, so you can keep your engine oil clean and free from impurities for as long as possible. Check out our service specials for any current deals and discounts on your next oil service!
The Benefits of Oil Changes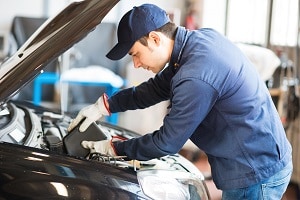 If you want to keep your car in good shape, oil changes are probably the most important service to have performed regularly. Oil is essential for lubricating the moving metal parts in your engine. It keeps them running smoothly without undue friction, which can wear them down and cause an overheated engine.
As time goes on, your oil will become contaminated and break down. It can't perform its role as effectively in that state, so you'll need to have it changed. This simple service can improve your ride's performance, efficiency, and safety, as well as help you avoid a costly engine repair or replacement.
Get an Oil Change near Me
When you need an oil change near you, our team at Land Rover Columbia is happy to assist. Schedule oil service with us and we'll have your car primed for the roads of Lexington, Irmo, and Columbia before you know it. We look forward to working with you!